AUCKLAND - Tuesday 18 October
$

450.00 Sold Out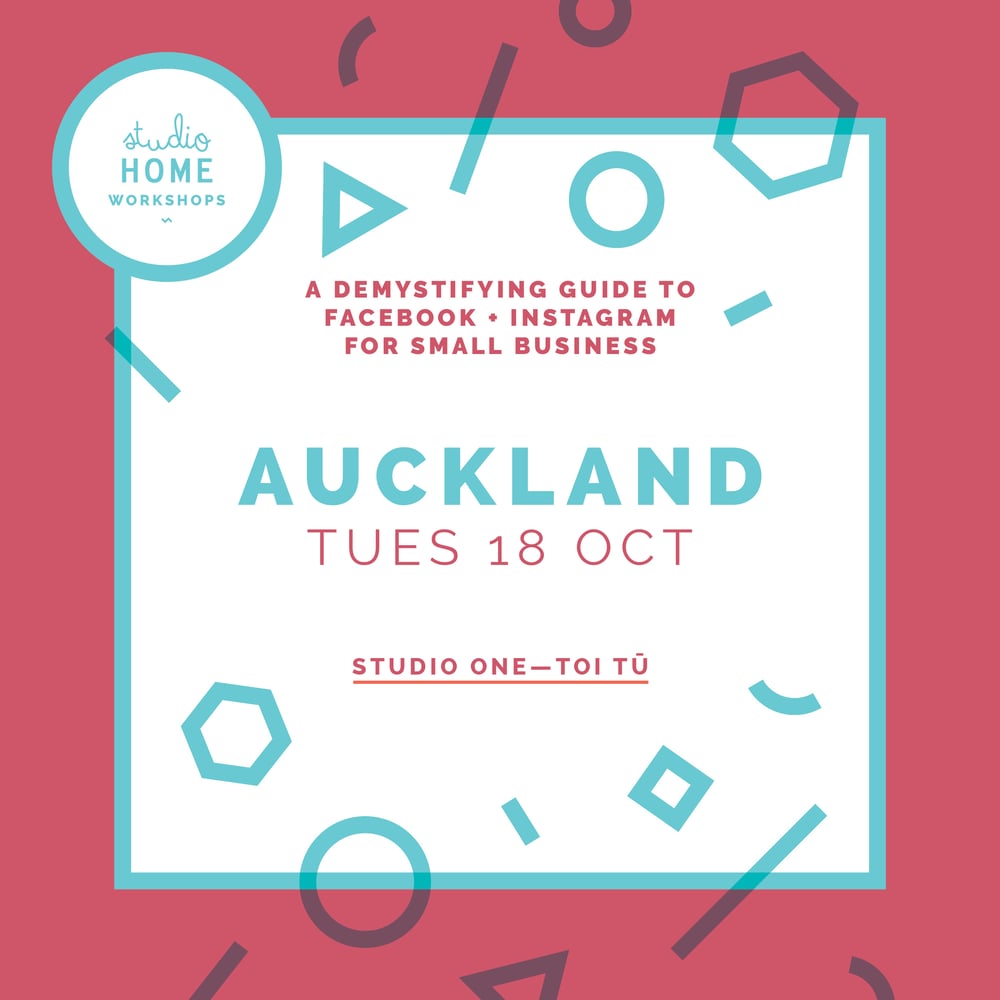 "A DEMYSTIFYING GUIDE TO FACEBOOK + INSTAGRAM FOR SMALL BUSINESS"
$450 + GST = $517.50
(GST is added as you pass through the Paypal checkout at end of booking transaction.)
NOTE: Please contact me for group rate if you have multiple people from ONE business attending. Proof will be required.
WHEN:
Workshop is from 9.30 am to 4 pm.
Please arrive 10-15 minutes early to settle in and grab a coffee.
This NEW extended time frame allows for short breaks, 30 minute lunch and plenty of opportunity for valuable group discussion, questions and meeting of fellow attendees.
WHERE:
Studio One Toi Tū
1 Ponsonby Road
Auckland
WHAT TO BRING:
Please pack some alert brains and a pen. You will be supplied with a large guidebook that has ample room for note taking.
Please don't bring a laptop.
It would be handy to have a phone loaded with the Facebook Pages and Instagram app's.
FORMAT + EXTRAS:
The small group allows for an open and casual vibe.
The projected presentation follows the flow of the guidebook combined with in depth explanations AND live demonstrations of points.
Regular stops for questions and clarification as well as examples being given to be relevant to those in class and their industries.
You'll have access to some sweet and savoury snacks throughout the workshop but please bring your own lunch. We will stop for just 30 minutes for our midday break if you need to nip out for good coffee and a bite!
FULL WORKSHOP OUTLINE HERE: http://www.studiohomebizbrains.com/the-workshop
Any further questions please contact Julia on hello@studiohome.co.nz or 0272656216
IMPORTANT NOTES:
- A minimum of 5 attendees is needed for these workshops to run. If we are unable to make that number we will be sure to contact you as soon as possible AND fully refund you.
- If you are also booking the "PIN + PITCH" class on Monday 17th of October please refer to that listing to receive your discount.
Share